14th Congress of the European Society for Photobiology
ESP 2011 - Geneva, Switzerland, September 1 - 6, 2011
General Information
Congress Venues
Most of the activities of the meeting will take place at the Uni Mail building of the University of Geneva (Boulevard de Pont d'Arve, 1205 Geneva).
The plenary sessions will take place at Uni Dufour (Rue du Général- Dufour 24, 1204 Geneva) just five minutes walking distance from Uni Mail.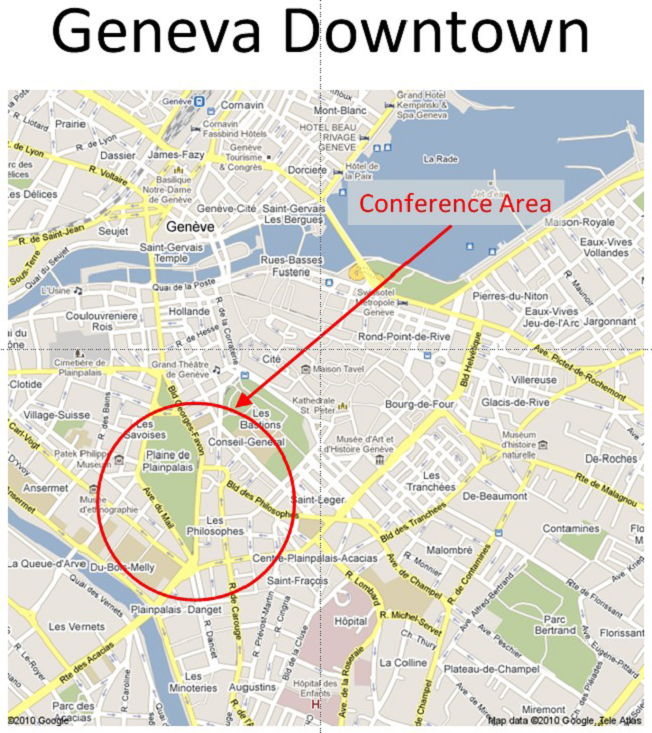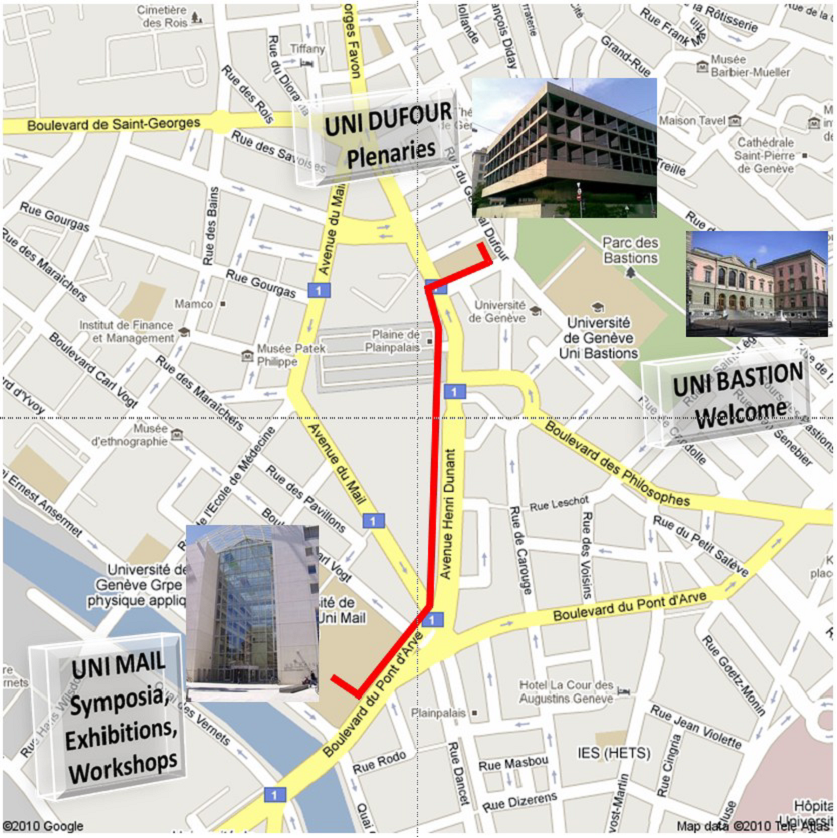 Click on maps to zoom in. Press <Ctrl + p> on the new opened window to print.
Local Organization
Chairman: Norbert Lange
School of Pharmaceutical Sciences
University of Geneva
30, Quai Ernest Ansermet
CH-1211 Geneva
Switzerland
Fax: +41 22 379 6567
Tel. +41 22 379 3335
e-mail: norbert.lange@unige.ch or myrtha.copin@unige.ch
Official Language
The conference language will be English with no translation facilities available.
Deadlines
Abstract submission: 23 May 2011
Fellowship application: 9 May 2011
Early registration: 30 June 2011
Location of Scientific Activities
The opening ceremony and the plenary lectures will take place in the main auditory of the Uni Dufour building (five minutes walking distance from the main conference venue, Uni Mail).

All the other congress activities will be held at Uni Mail. Parallel sessions will take place in four auditoria with more than 180 seats and in other modern lecture rooms with 40-100 seats.

Poster presentations, exhibitions, coffee breaks and the main meeting area will be in front of the auditoria.
Both Uni Mail and Uni Dufour are situated in the area of Plainpalais, which is conveniently served by the tram/bus lines 15, 17, 12, 13, 14, 1 the latter three stopping directly in front of Uni Mail.
Main Social Events
The Welcome Reception on Thursday, September 1st will take place in the Aula and the Lobby of Uni Bastion Building of the University of Geneva.

Although the University of Geneva was already born in 1559, this building constructed between 1868 and 1871 is still the symbol of the academic life in Geneva.

It is located in the Parc de bastions, formerly Geneva's first botanical garden (founded by A.-P. de Candolle in 1817 and maintained until the turn of the 20th century).

It allows for a pleasant promenade in the heart of the city is now embellished by monuments, fountains and statues all along its shady walks. Over fifty rare varieties of trees may still be admired.

The Congress gala dinner will take place on Sunday, September 4th.
Registration fees and deadlines
Before
30 June 2011
Before
1 August 2011
On-site payment
ESP Members
€400
€460
€550
ESP Members Students*
€150
€200
€250
Non-ESP Members**
€550
€650
€750
* A certification of studentship is required.
** It is possible to apply for ESP membership at the ESP website:
http://www.esp-photobiology.it/membership.html
ASP members are entitled to pay the same reduced registration fees as ESP members (please include proof of ASP membership).
Registration fee includes access to all the scientific sessions, the exhibition/poster hall, the book of abstracts, coffee breaks and the Welcome reception.
The registration office will be in the Entrance Hall of Uni Mail the main congress venue beginning from Thursday September 1st at 14:30.
Meals
Restaurants, coffee bars, snack bars and pubs are in the close neighborhood of the conference venue. The participants can choose between traditional Swiss food, French restaurants, and others including Italian, Japanese, etc. Furthermore, there is a cafeteria at low prices situated in the conference venue.
Food shops, banks, post-office are within walking distance from the venue.
Travel to Geneva
By airplane
Geneva has an international airport offering direct regular flights to nearly 90 international destinations. The terminal has all the facilities a traveller could wish for. It is designed for speedy and simple check-in, and has essential services such as change, information and restaurants at strategic points.
There are direct low cost flights between Geneva and major Cities in Europe such as Alicante, Amsterdam, Barcelona, Belfast, Berlin, Biarritz, Birmingham, Bordeaux, Bournemouth, Bristol, Brussels, Bucharest, Budapest, East Midlands, Edinburgh, Florence, Glasgow, Las Palmas, Lisbon, Liverpool, London (Gatwick, Luton and Stansted), Marrakech, Madrid, Malaga, Naples, Newcastle, Nice, Oslo, Palma Mallorca, Paris, Porto, Prague, Rome, Toulouse, Valencia, Venice. (for more information go to www.gva.ch).
Just before leaving the baggage claim area, please be sure that get a ticket from the machine located at the exit that give you free access to the public transportation of the city of Geneva. For most hotels there are also shuttle busses available.
By highway or rail
Geneva's favoured geographical position makes it a natural focal point for the international traveller. Road and rail facilities radiate from Geneva to provide rapid access to the rest of Switzerland and Europe.
Comfort and convenience by rail
Connections to all Swiss regional & international networks. The Swiss National Railroad system offers hourly links to Lausanne, Bern, Basel, Zurich and the regions of Vaud and Valais.
The city and Geneva airport are linked by rail with more than 200 trains a day. There are around 15 TGV a day to Paris and Lyon running from Geneva.
Highway Hub for Central and Western Europe
In recent years, highway construction within Switzerland and in neighbouring countries has turned Geneva into a highway intersection for Europe. A branch of this same highway offers rapid links from Geneva to the South of France and from Geneva to the West of France. To the North and East, the Swiss highway system provides fast direct connections to Germany and Eastern Europe.
Other information on Geneva:
---